Canadian Mining Skills Development Strategy Luncheon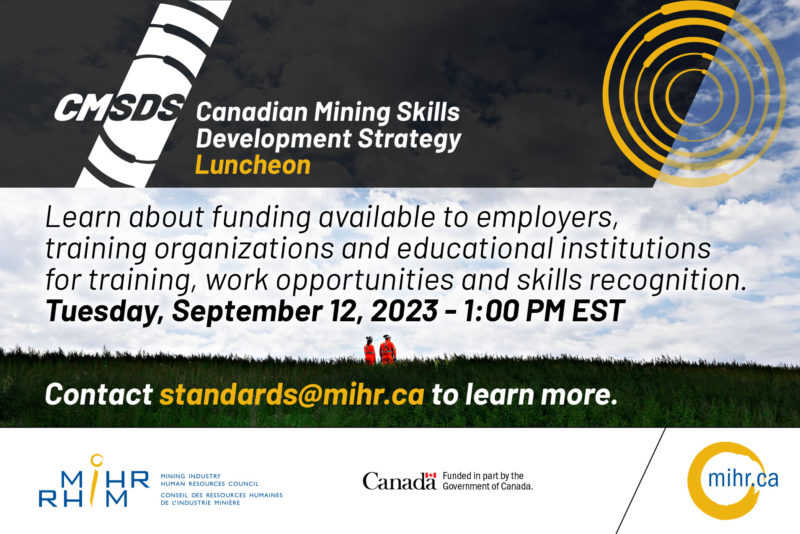 Join us in Thunder Bay for lunch and a presentation about funding available to mining employers, training organizations and educational institutions through the Canadian Mining Skills Development Strategy (CMSDS) on September 12, 2023 at 1:00pm EST.
The Government of Canada announced $960M in funding in 2022 to support Canada's transition to a clean economy, which will impact workforce employment and skills in various sectors. As part of the funding, MiHR secured $14.5M to support the mining sector with this transition – approximately $10M of which is allocated to implement the CMSDS to better align workforce skills with future industry needs.
Through the CMSDS, funding is available until March 2024 for mining employers, training organizations and educational institutions to conduct the following types of activities:
MiHR Training
Deliver essential and work readiness skills training for underrepresented groups
Deliver foundational work site readiness skills training
Deliver occupational technical skills training
Deliver upskilling training providing advancement opportunities to the existing workforce
Alignment of Training
Develop, amend and/or enhance existing training to align with the National Occupational Training Standard (defined by industry)
Wage Subsidies
Provide work opportunities following training to practice newly acquired knowledge
Skills Recognition
Assess and recognize worker skills and competencies through the Canadian Mining Certification Program (CMCP)
CMSDS funding helps build a highly skilled and competent Canadian mining workforce. MiHR looks forward to the opportunity to support skills development in your organizations.
Contact standards@mihr.ca to learn more.
Event Details